Current Official Hourly Observation (taken at :53 on the hour)

Current Radar Loop
Temps Next 48 Hours (auto-updating)
I've given The Intern the day off so he can be as far away as possible from the following horrible idea:
A "The Bachelor" themed weather post.
I realize very few of you are watching The Bachelor, or even know tonight is the finale (Advice: Don't Watch. This is a terrible, terrible show, in the same way that wrecks are terrible, but some people slow down to see them). If you've not heard of this show, Jimmy Kimmel has a good synopsis:
I assume 99% of The Bachelor viewers are women. I am a man, although after you finish this post, you should fairly refer to me as a "man, allegedly, he wrote a post about The Bachelor."
Anyway, something else you need to know about The Bachelor, Juan Pablo, is that women – including at least one Opera Singer – swoon over this guy:
Other than that, he appears to have relatively few qualities prized by women seeking love on national TV.
Today – Lucy, a Free Spirit, Enjoy Today Without a Care in the World! – PM High 70
Like Lucy, the good times will continue, but only for another day or so.
Tuesday – AMAZING! – AM Low 46, PM High 75
The morning will be amazing. Your amazing ride to school or work will be amazing. It will be amazing how amazing the weather will be. Your lunch will be particularly amazing, during which you will have amazing yet meaningless conversation. By the end of the day, you will run out of anything to say, so you'll just keep repeating how everything around you is so amazing, and that will be so amazing. As long as you are there for the right reasons.
Tuesday Night/Wednesday – A Bad Night in the Fantasy Suite – AM Low 53, PM High 55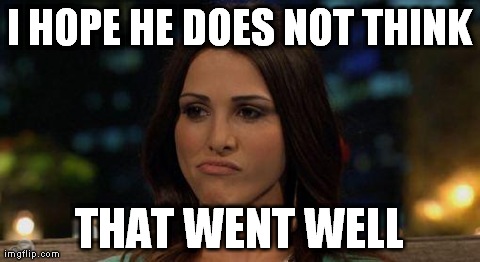 After midnight Tuesday night & into Wednesday morning, a cold front will push a few non-severe thunderstorms and rain through. It'll move quickly, and drop temps into the 50s.
However, if you don't check the forecast the night before, or at least look out the window when you wake up, you'll walk outside expecting 70s and sunshine, only to get the equivalent* of being annihilated/dumped on national TV.
(*possible overstatement)
Rain should linger through the day, then gradually clear out. I don't think Wednesday night soccer practice . . .
. . . will happen. Expect a rain out.
Thursday – Clearing, but Colder – AM Low 25, PM High 48
Like Andi (above, the presumptive Bachelorette), and the Opera Singer, you'll want to hit the eject button on Thursday. You do not want this weather choosing you.
Friday and Saturday's high is 61. By Sunday, another weak system will approach, with only a slight chance of rain.
Next week, we expect colder than normal temps (normal temps for this time of year: lows in the mid 30s-40, Highs 60-65).
(Prediction: Juan Pablo chooses Camilla).